Hello to everyone. In summer, the air temperature rises and we do not want to eat heavy meals. Thus, the wonderful greens, vegetables and fruits that grow in the season come to our aid. The summer salad recipe that everyone will love is one of the most delicious and satisfying fit, helathy recipes. Because it is not a heavy meal, it does not pass out and everything in it is nutritious and has plenty of vitamins. Therefore, the summer salad recipe is a food store that can be eaten by everyone.
Summer Salad Formula
We see that there are many different salad recipes. In fact, the basic formula for all of them is the same. You can make different salads thanks to the main lines I will give below. As in every salad, there are a few main points in the summer salad. Thanks to these main points, you can make a wonderful variety of salads with the ingredients you have at home. The summer salad formula is very simple. Within the framework of this formula, you can create many different flavors of salad by thinking about the materials you have at home. Here are 5 ingredients you need to prepare the salad:
Greens (lettuce, ice berg, purslane…)
Vegetables (peppers, carrots, tomatoes, beets…)
Protein (tuna, cheese, meat, chickpeas, eggs…)
Fruit (cherry, strawberry, watermelon…)
Sauce (olive oil, lemon, yogurt…)
In the categories above, you can determine the materials you have at home and make different salads, just like you can combine clothes. For example, the most preferred ones are ice berg lettuce, chickpeas, chicken, corn and strained yogurt. As you can see, strained yogurt is used as a sauce, chickpeas and chicken are used as protein, ice berg lettuce is used as greens and corn is used as vegetables. Another well-known salad recipe is curly lettuce, red cabbage, tomatoes, cheese, lemon, and olive oil. As you can see, all salads are prepared according to this formula.
Sample Summer Salad Recipe
The following may not be all of the materials. However, it is possible to make a healthy summer salad with the same heartiness as other alternatives at home. The ingredients that I will share below are just a summer salad alternative. It can inspire you and help you make the same or similar salads.
Curly Lettuce
Purslane
Capia pepper
Carrot
Beet
Tuna
Cherry
A pinch of basil
Olives
How to Make Summer Salad ?
Let's start cooking the vegetables we have chosen first. Let's cook the capia pepper, carrot and beet in a saucepan until soft. You can also boil it if you wish.
Next, let's continue with chopping the greens. Finely chop the curly lettuce. I chose purple curly lettuce. But the type doesn't matter. Let's separate the leaves of purslane and set it aside.
Finally, let's get the greens on a plate of your choice, then the vegetables we cooked, and the tuna fish on top. Let's put the washed cherries on the edge of the plate. Let's drizzle a little olive oil on it. Finally, you can decorate with any material you want. For example, corn, basil or olives. Here is our wonderfully delicious salad ready! Enjoy your meal.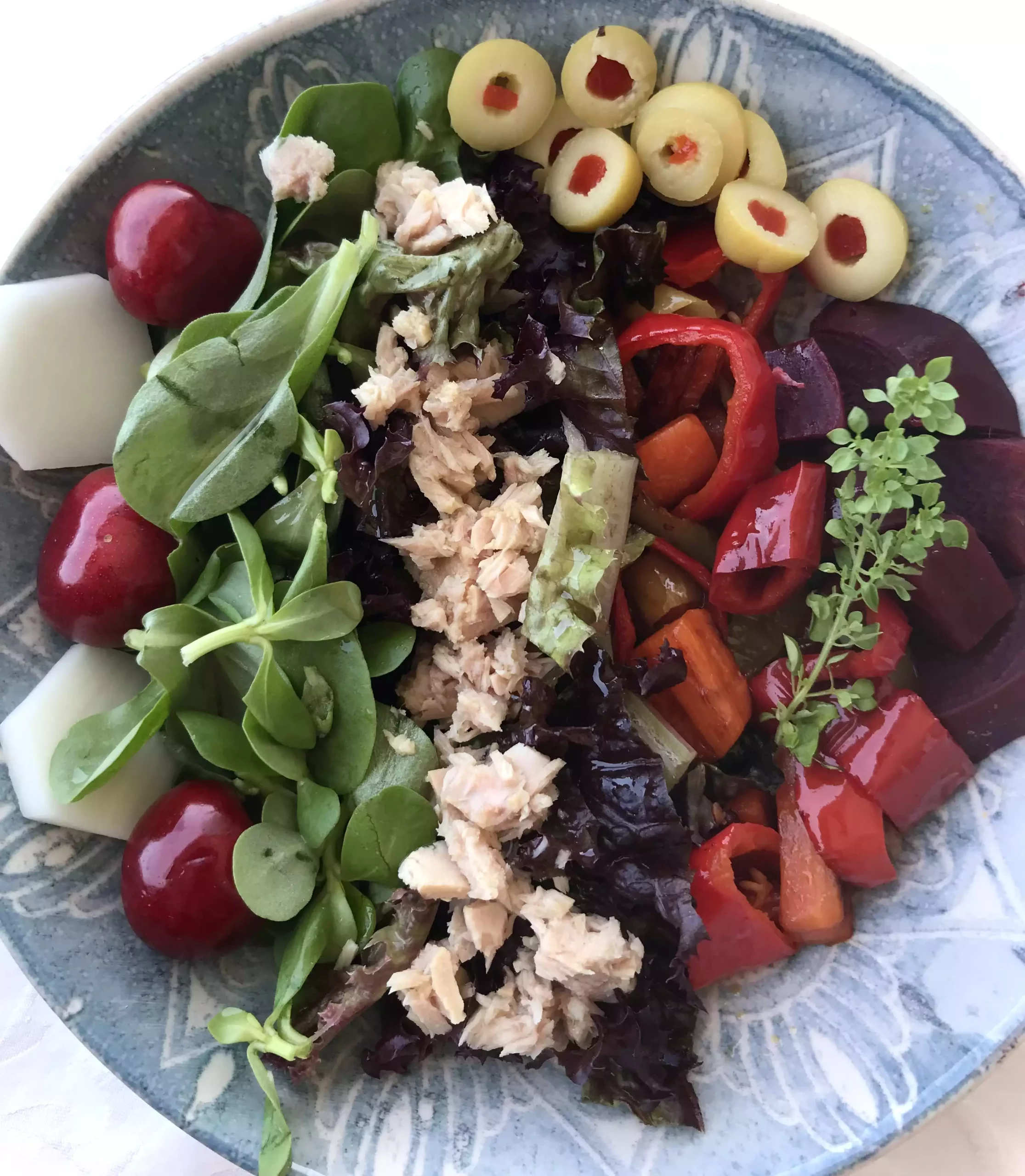 How to Make Strawberry Salad ?
Strawberry is one of the most popular fruits of summer. This fruit is especially preferred to make salad with purslane. This salad recipe, which provides a refreshing and light satiety in the hot months, continues to be everyone's favorite.
Materials
Strawberry
Purslane
Walnut
Cheese
4 tablespoons of olive oil
Juice of half a lemon
Half a teaspoon of vinegar
1 spoon of poppy seeds
Recipe
First, let's chop the strawberries. Then let's put the purslane that we washed and sorted aside. Then dice the cheese and sprinkle it over the purslane. For the sauce, let's shake olive oil, lemon, vinegar, poppy seeds in a jar. Let's put the chopped strawberries and chopped walnuts on the salad. Finally, let's pour our sauce. That's it! Enjoy your meal.